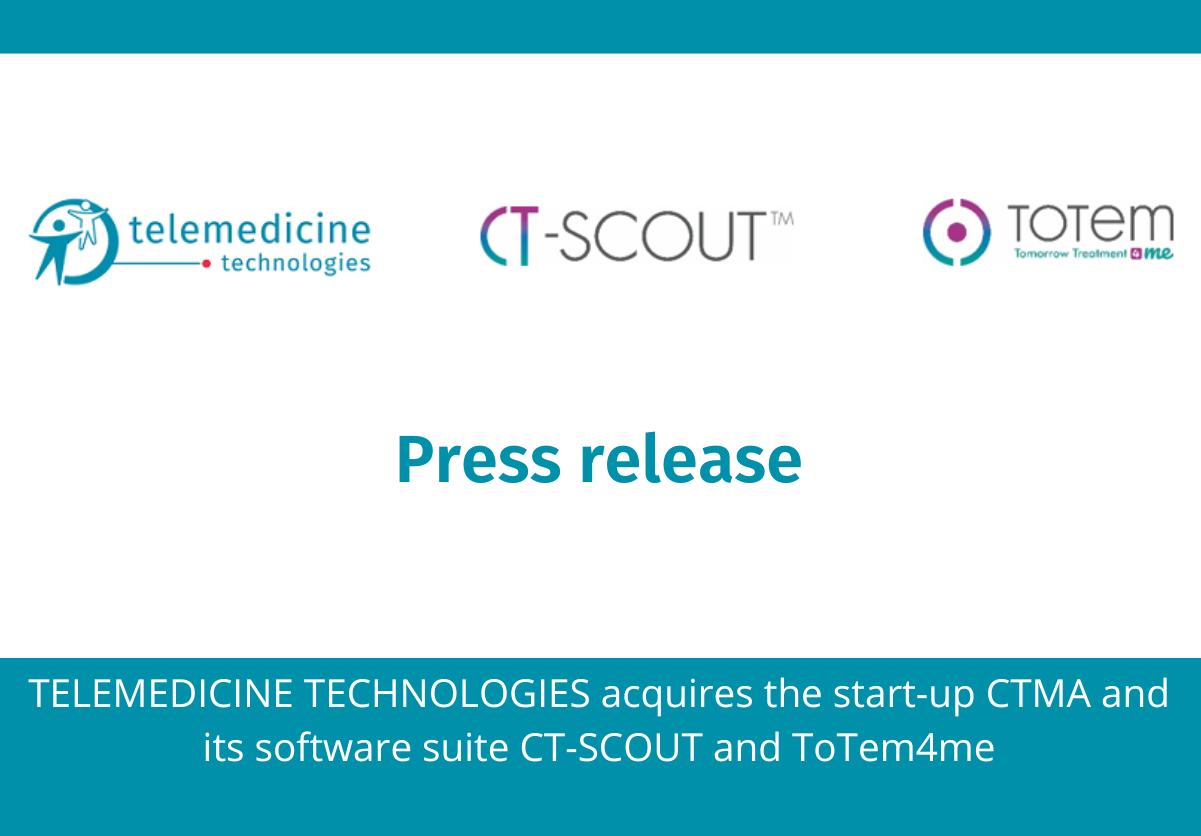 TELEMEDICINE TECHNOLOGIES acquires the start-up CTMA and its software suite CT-SCOUT and ToTem4me, to strengthen and accelerate patient recruitment in clinical trials
Telemedicine Technologies continues to acquire companies that provide innovative solutions and services to its customers. The acquisition of the CTMA (Clinical Trials Mobile Application) software suite enables Telemedicine Technologies to offer investigating centres assistance to accelerate patient recruitment in clinical trials, and to ensure their commitments to sponsors.
The digital transformation of healthcare institutions is experiencing an unprecedented acceleration in both patient care and clinical research.
Reducing the time needed to complete clinical trials before registration is a major challenge for both pharmaceutical companies and patients. Designed by doctors, leaders in acute therapeutic fields, on a common algorithmic basis, CTMA applications make it possible to meet these challenges:
CT-SCOUT: this application, originally developed to assist clinical trial investigators in IBD (Inflammatory Bowel Disease) in their recruitment efforts, is now also available for a range of dermatological and rheumatological immune disorders.
TOTEM4me: is a patient application that will soon be available to French IBD patients, in collaboration with GETAID and the AFA Crohn-RCH patient association (Association François Aupetit)
About Telemedicine Technologies
Telemedicine Technologies is a publisher of collaborative e-Health solutions, leader in the field of Clinical Research with its CleanWeb solution, a secure internet platform dedicated to the electronic management of clinical trials and registries.
The company has set up more than 5,000 studies involving more than 20,000 investigating centres located in 64 countries with 50,000 users worldwide.
For more information: www.tentelemed.com
Contact Telemedicine Technologies: Dr Philippe HARAN, Managing Director, philippe.haran@tentelemed.com